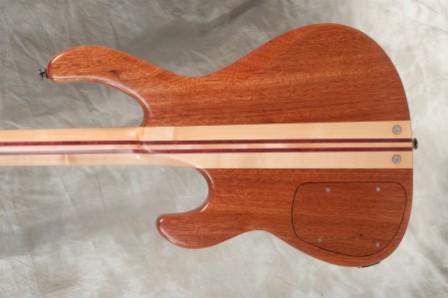 When we are hand-crafting your very own Caldera bass or guitar, there are many options that you can choose from to tailor your dream guitar to your personality and playing style. These include:
If you do not see what you are looking for, please do not hesitate to contact us and discuss your ideas.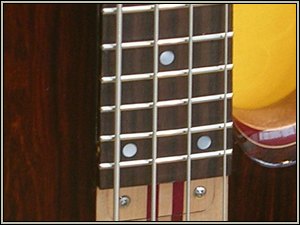 INLAYS
As standard our fretted instruments can either have Mother-of-Pearl dot inlays on the fingerboard face or it can be left clear, Standard fretless are always unadorned. As options we can inlay block markers in MOP or Abalone or a material of your choice. You can have your name, initials or other design inlayed at the twelfth fret or even along the length of the fingerboard in combinations of MOP, Abalone and other types of shell or wood. How about illuminated inlays, or maybe just nothing at all.
We can inlay in various materials your designs into the head, fingerboard or body of your instrument or just lacquer the whole thing black, green, orange or sky blue pink with yellow dots!
How about pickup covers with tops made from the same wood as the top of the guitar, or matching wood control knobs, maybe polished aluminium cavity covers in place of continuous wood? How about gold, silver or rhodium plated metalwork?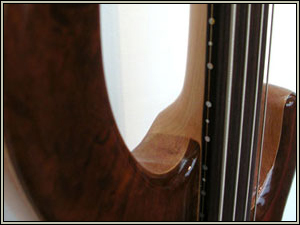 SIDE POSITION MARKERS
Mother-of-Pearl markers are our standard choice. They are highly visible as they 'catch the light' and also add a touch of class. We fit combinations of two and three millimetre dots depending on the position.
For 'custom' options the choice is yours (as long as the material is available). Brass, silver, gold, diamond or even plastic can be used to add that extra touch of personality.
LED SIDE POSITION MARKERS
Fingerboard LEDs can be fitted in place of the more traditional Mother-of-Pearl or plastic position markers along the top edge of the fingerboard.
These, apart from looking great, enable the musician when playing on a dark or dimly lit stage to see clearly exactly where you are on the 'board (or should be!).
As standard these are powered by an on-board battery pack housed in a cavity on the rear of the body. They are switched on automatically when the jack is inserted into the instrument. We can offer alternatives to powering LED's, such as phantom power where the necessary voltage is supplied back down your guitar lead from a suitable pre-amp or DI box with this facility.
Our own favourite is to use our Fibre-Optic system which requires much less power and has options such as variable colours, RGB LED's, on-board switching and dimming and superior reliability.
FIBRE-OPTIC SIDE POSITION MARKERS
Alternatively we can fit our incredible fibre-optic illumination system. With a fibre-optic harness built into the neck and fingerboard the position dots can be illuminated in the same manner as our led option.
The great advantages of fibre-optics are:
High reliability as a failed led can be easily replaced without any damage to the instrument.
Reduced power requirement as fewer leds are used in the light head.
Colour options. Fibre-optic systems can be single or multi colour, your choice.
As both Fibre-Optic's and Led's are virtually invisible on the fingerboard edge when switched off we set them in a small sterling silver ring so the positions remain visible at all times.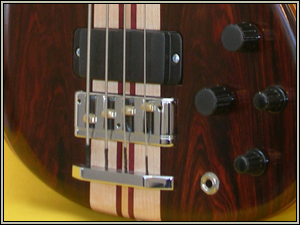 ACTIVE OR PASSIVE CIRCUITS
As standard all our Caldera basses have EQ. The electronics we fit as standard are a three band EQ which gives extra flexibility and control over the bass, mid and treble range. Our EQ's have independent controls for each function as we believe the use of 'stacked pots' to be a cumbersome solution for the amount of space saved. Needless to say our EQ's are our own design and are constructed in-house. We can install EQ's from 2 to six bands with all, some or none of these bands controlled by pre-sets housed within the body.
Our usual preference is for twin volume controls for pickup output, an EQ cut switch can be provided to enable an unfiltered passive output.
Our preference for the fretless models is for a passive output. Combined with slightly cooler output pickups we feel this specification gives a more open and 'woody' tone more suited to this type of instrument and makes full advantage of the natural resonance and harmonic structure imparted by the strings direct contact with the fingerboard.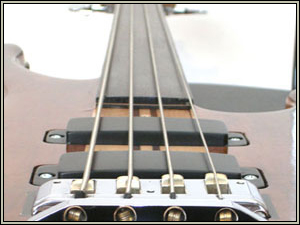 FINGERBOARDS
We like to leave our fingerboards clear for the fretless models. This allows the natural beauty of the Macassar Ebony fingerboard to be shown to full advantage and also removes the sometimes unsettling effect that inlaid lines of another material can have on the tone and feel.
For custom options we have a large selection of alternative species of wood available for making fingerboards.
As any musician knows the choice of tonewood for the fingerboard can have significant effects upon the way the instrument plays and 'feels', and to a somewhat lesser degree on the sound of the instrument.
Everyone has their favourite. Some like the brightness of maple, others the slick speed of fine quality rosewood or ebony (of which there are several varieties of both). Timber choice may be for aesthetic reasons alone or maybe as part of the whole scheme of a custom instrument. As a guide you will see below a list of some of the woods which are frequently used for fingerboards.
Macassar Ebony
African Ebony
Rosewood
Maple
Purpleheart
Pao Ferro
The list could go on and on and there are from time to time shortages of some material and also new kids on the block. You could even have something of your own you would like to use, just get in touch and let us know!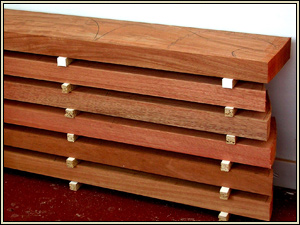 TONEWOODS
We have a wide selection of tonewoods both in-stock and available from our selected and trusted importers.
We can make your bass or guitar from virtually any combination of tonewood (there are some combinations which don't work well together). Some examples of species and applications are listed here:
Necks (main battens)
Maple, Wenge, Mahogany
Stringers
Purpleheart, Ebony, Mahogany
Body caps (front and back)
Imbuya, Cocobolo, Maple (spalted flamed or quilted), Zebrano, Burl of various species
Body core
Maple, Mahogany, Meranti, Ash, Vermillion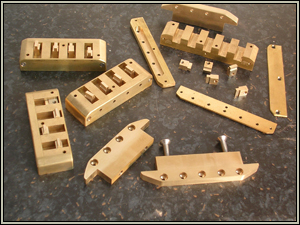 NUTS
Our standard fitment for fretted basses is our own design adjustable solid brass nut. This allows for string height adjustment at the nut to cater for changes in string gauge or playing style. Our basses leave the workshop set up with a medium action which can be easily adjusted with the keys supplied with the instrument. The material is the same as used in the bridge and tail-block but is left polished and un-plated.
For the fretless models again to enhance the tonal character we use selected pieces of ebony for the nut. Broader than the brass nuts of the other basses and with a slightly deeper cut these ebony nuts look and feel every bit as good as the whole instrument, following the aesthetic perfectly.
Guitars are generally fitted with bone nuts; however, where a tremolo/vibrato type bridge is employed we will use graphite nuts. On custom built models we will offer any preference including roller and locking nuts.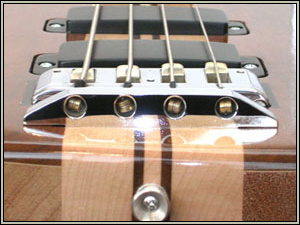 METALWORK
String anchors and bridges are all precision milled from solid billets of brass. Until recently we always left these parts, as our adjustable nuts still are, with just a polished natural finish. We now have facilities for finishing our metalwork in a variety of ways. Our standard finish is bright chrome but other finishes such as satin chrome, silver, gold, nickel and rhodium can be chosen. Unfinished natural brass is still an option which some may prefer and which in the case of the fretless certainly helps continue the more 'organic' aesthetic of the instrument. Bridge saddles remain un-plated. We make no attempt to re-plate any proprietary components, such as machine heads due to the range of finishes these are available in as standard, although as an option we can make the turns of the machines from a hardwood to match say the front of the guitar or some other contrasting material.
CAVITY COVER PLATES
All Caldera basses now have as standard cavity cover plates manufactured from a slice of the body wood cut prior to routing the cavity. This allows us to make virtually continuous wood matching covers, sometimes also known as 'nearest neighbour'. They are drilled for trim-pot access and ventilation and finished internally with copper foil to enhance shielding. They are secured with countersunk screws which screw into threaded brass bushes bonded into the instruments body. This ensures that no matter how many times they come off the covers will always refit securely. This all takes a lot of time and care but the results look superb.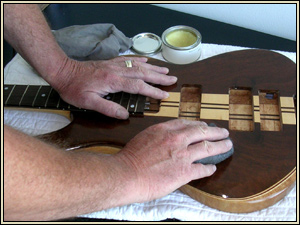 FINISH
All our basses can be finished if required with nitro-cellulose lacquer.
Nitro-cellulose requires the application of very many separate coats to build up a good finish. This makes the application of any tint or colour very controllable and also helps to ensure that only the necessary amount of lacquer is applied to achieve the desired finish. As a result of the application and the flatting-back between stages the resulting finish is relatively thin and therefore has minimal effect on the resonance and tone of the guitar body. It is also quite soft which, in the event of damage makes it easily repairable for most luthiers or spray-shops. This type of finish, if kept clean with an appropriate polish (of course we recommend our own brand) will last for many years and unlike some of the harder finishes it will resist the effects of changes in temperature and humidity, within reason and due to its flexibility will as a result not suffer crazing or checking quite so easily.
It's one main drawback, and this is purely the makers problem, is the sheer amount of time and effort that goes into a nitro finish, there are a lot of hours of spraying, flatting, more spraying, more flatting, buffing and polishing and time for hardening before the instrument is ready for assembly.
Our preferred method of finishing which is increasing in popularity, particularly with bass players, is the application of an oil finish directly onto the wood. This is a little easier to apply as it doesn't involve spraying, being applied by brush and pad and is less damaging to the environment than Nitro ever could be. Also, an oil finish can be refreshed or in the event of a knock or scratch can easily be repaired at home.